So I've mentioned previously that I do craft projects with my son. I came across this idea at a friends house, and thought, that is superb!!
So we decided to make it. It's extremely simple.
You need:
-an old picture frame (your choice of sizes...if you have a lot of earrings, you'll want a larger frame.
We used an 8x10 frame.
-Mesh backing. We used plastic mesh...like this. You'll need at least enough to cover the back of the frame, so 8x10.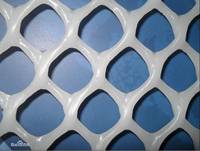 -You'll also need tacks or super glue. We chose glue because I was doing this with my son.
-Picture frame hanging kit. You can get these from the dollar store. It contains a wire, that goes from one side of the frame to the other, so that you can hang it on the hook included.
-You'll also need tacks or small nails. We chose small hooks, for ease of use. You can also screw them in.
Instructions:
Take the mesh and cut it to to fit the back of the frame. Glue/tack it into place. (You may want to do both... once we were finished, I did go back and used small tacks to hold it together.)
Attach the nails/screws on the outside of the frame, about 1- 1 1/2 apart. If you have more necklaces, you'll want to put them closer together. You can, conceivably, put them as close as you want. Just put them an even distance apart.
Using the picture frame hanging kit, attach the wires (per instructions included) and put the hook in the wall. Now hang it up!
The final step is to put your earrings and necklaces on!! (You can put non-hook earrings on it, but you'll have to take it off to put them through and put the backs on.
A little hint... Buy a small organza bag (you can get them from the dollar store, usually in the candle aisle...they probably have smell good stuff in them...dump that out.) hook the bag on the bottom middle hook, and you can put little trinkets, rings, small earrings inside it!!
Here's a picture of an example of the final product: