When my boys were little, trying to teach them to walk, and walking with them was a serious challenge that met with a painful, aching back, or a painful, aching wallet.
I tried both ways, and neither was great.

Either I bent over constantly in an unnatural way to hold my child's hands and encourage them to walk...
OR
I had to purchase costly baby "items" like the walker on wheels, which, my mom's told me HORROR stories about (later) or push toys, which just meant my son eventually fell backwards. Lots.
When I was a baby, my mom would put me in a walker and let me freewheel around the house. One day, apparently, she'd forgotten to close off the stairs.
I ended up rolling my walker all the way down a flight of stairs.
By some miracle, I landed upright, shaken, but unscathed.
Unfortunately, there are MANY babies that are not so lucky.
Well
Juppy
has come up with a solution to the aching back/wallet and stairs problems.
The Juppy "Momentum"
The Juppy "Momentum" is a solution to a previously recognized but unsolved challenge for parents of babies beginning to walk. Babies strong enough to begin walking but not strong enough to walk alone. The Juppy builds confidence in your baby and teaches balance while you maintain your natural posture, eliminating the grueling task of hunching over while teaching your baby to walk.
A few features of the Juppy Baby Walker:
Has easily adjustable straps that accommodate your height whether you are 4'11" or 6'11"
Comes standard with soft hand grips that are strategically placed to provide optimum benefit for your hands
The Juppy is a parent assisted baby walker which eliminates all of the dangers of walkers with wheels.
One size fits all (baby weight not to exceed 35lbs).
Made from all natural Cotton
Check it out in action here!
My Juppy Momentum came extremely fast after I gave them my color choice, name I wanted embroidered and shipping information. I am really pleased at how fast it came!!

The Momentum comes with a matching 'storage' bag, and fits easily in your purse, glove compartment or backpack for ease of use and transportation.
This means that you can use it ANYWHERE, and don't have to lug around a heavy walker, walking toy or big bottle of pain relievers for your aching back.
I took my Juppy to my friend's house, since she has a son who's learning to walk, and both of mine are older. I had my husband come along, since he's much taller, and I wanted to accurately gauge it's use.
We put *S* in the walker, and his mom tried it first. I watched as Andrea put him in, zipped and velcro'ed it closed. I wanted her to try it first, to see how easy/difficult it was for someone to figure it out. It was EXTREMELY easy and self explanatory.
She adjusted the straps to fit her size (she's 5' 6') and started walking with him around the house. From the time I took it out of the box, until she was walking with him was under 5 minutes.
We decided I'd try it next. I'm 5' on a GOOD day, so we really needed to adjust the straps. It did take a little getting used to, but that's probably because I haven't walked with a little baby in a long time. Once I got the hang of the weight and movement, it was really easy!
The real test was my husband. He's 6'2" and a big man. He's got a bad back too. We adjusted the Momentum and gave S to him. The first thing I noticed was that he did not have to hunch over, as he did when our son was little. (that was a sight!)
He simply walked. He was surprised at just how easy it was for him to use it.
In all, this gets a thumbs up. If I were going to have another child, I'd surely use it!!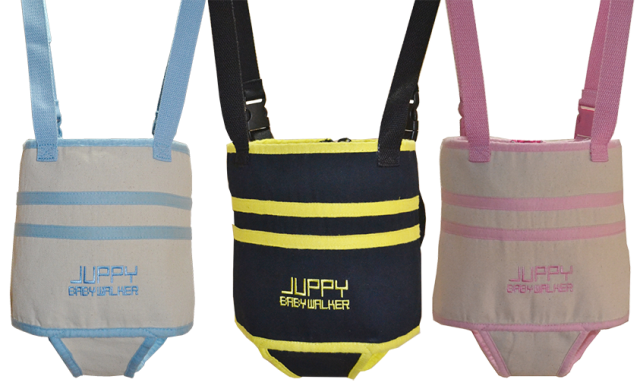 You can choose your Juppy Momentum in 3 great colors, and even have it personalized!!!
So...Are you pregnant or have a little one and want one? You're in luck!
Juppy has given me the ability to give one away to a lucky winner! You get to pick your color, and even have it embroidered!!

Just enter my giveaway here!!
I received one or more of the products mentioned above for free using
Tomoson.com
. Regardless, I only recommend products or services I use personally and believe will be good for my readers.